:15 spot for American Public Media, aired on BBC Newshour and Marketplace.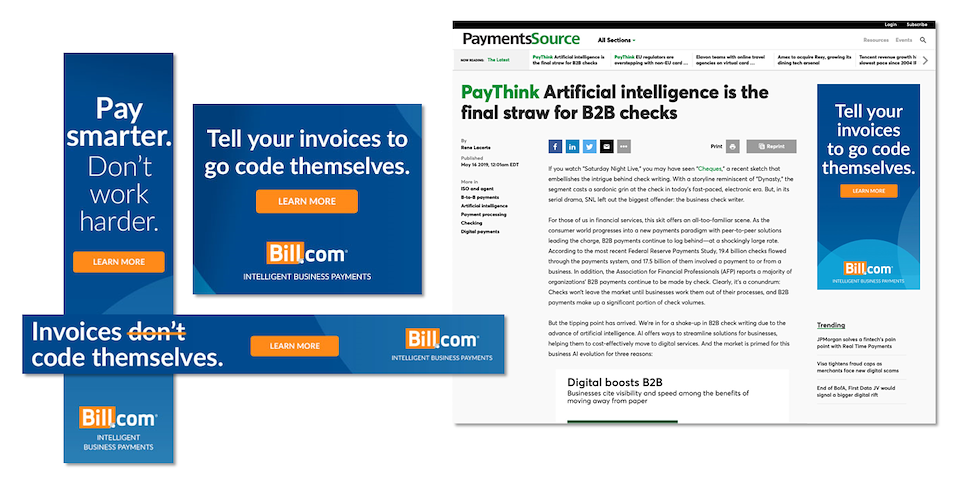 Display ads for new AI feature set.
First billboard! Run in two markets, Bay Area (101-S) and Boston.

Explainer video for our Accountant Partner Program.
Explainer video. 75% view-through rate. Illustration by Hed Hi Media.
:30 spot for Thrivecast, a podcast aimed at the CPA community.
Homepage redesign.
4-page brochure for our accounting prospects
Landing page overhaul. Converted qualified leads 149% better than control.
One-pager for an accountant-focused tradeshow.
QB Connect booth signage.
Bill.com
I work on the marketing team at Bill.com. We're a data-driven, fast-iterating team, so I'm constantly writing fresh copy and brainstorming new creative with my team to improve user experience, drive conversion, and increase lead quality.
These are a few of the most successful projects.
| | |
| --- | --- |
| Role | Copywriter/Creative Direction |
| For | Bill.com |
| Date | 2016-2019 |
| URL | www.bill.com |
| Creative Director | Glen Abrahams |
| Designer | Shepherd Brown, Brian Cortright, Tannie Low |